The Extra Heavy Duty Spray Washer Range
The HW1600-G from Hotwash, like all of its stablemates, boasts a robust gear driven turntable that improves durability, cleaning efficiency and worker safety.
Operator ergonomics are also improved with features like the automatic lid for easy opening and a basket "jog" button that brings heavy parts in line with the operator to reduce potential back strain.
An impressive 5.5Kw pump makes light work of the heaviest cleaning job
HW1600G-MS Spray Washer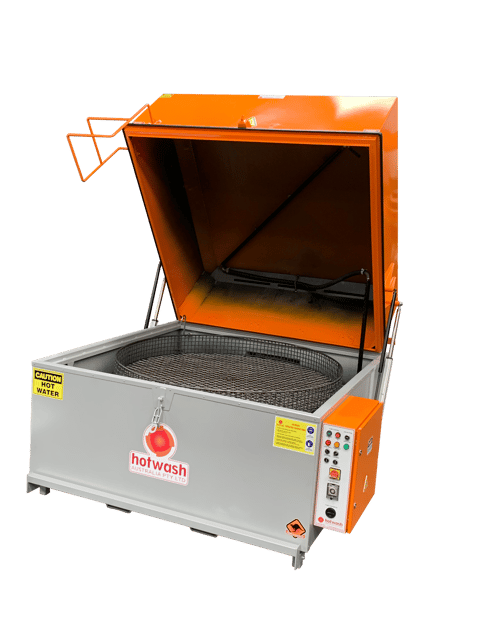 The HW1600-G MS is a powerhouse designed for heavy-duty cleaning needs. With its robust 5.5 kW stainless steel pump, it effortlessly tackles oils and grease.
Trusted by top-tier transport, earthmoving, and mining companies across Australia, this solid piece of machinery is your key to saving time and money in a busy workshop.
Hotwash proudly serves Pilbara Iron and has many machines in operation. Ideal for medium-sized workshops, it cleans everything from engine blocks to gearboxes with ease, using only water, heat, and detergent – eco-friendly and efficient.
With a basket capacity of up to 1600mm diameter, the HW1600-G is a valuable addition to any workshop.
Features & benefits:
Hot Water Based
Australian designed & made with quality local service and back up.
Mine site rated – safety, performance, and reliability.
Moisture & dust resistant electrics.
24/7 digital timer – automatic preheating to save time.
Low water level warning lights and automatic cut-off to protect element & pump.
Waste water pump out system to rapidly drain the tank.