Extra Heavy Duty Spray Washers
The HW1100-G MS is a powerhouse designed for heavy-duty cleaning needs. With its robust 4.0 kW pump, it effortlessly tackles oils and grease.
Trusted by top-tier transport, earthmoving, and mining companies across Australia, this solid piece of machinery is your key to saving time and money in a busy workshop.
Hotwash proudly serves Pilbara Iron and has many machines in operation. Ideal for medium-sized workshops, it cleans everything from engine blocks to gearboxes with ease, using only water, heat, and detergent – eco-friendly and efficient.
With a basket capacity of up to 1100mm diameter, the HW1100-G is a valuable addition to any workshop.
HW1100G-MS Spray Washer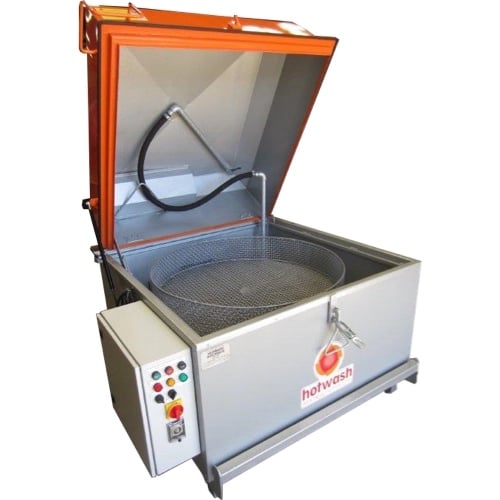 The HW1100/G is where the big boys start to play. It's big 4.0 kw stainless steel pump makes short work of oils and grease. Used by transport, earthmoving and mining companies around Australia, the solid HW1100/G will save your work big time and bucks. Hotwash is a preferred supplier to Pilbara Iron and has over 28 machines currently in operation. The HW1100/G is very popular in medium-sized workshops cleaning anything from engine blocks to gearboxes with ease. The HW1100/G uses only water, heat, detergent and is environmentally friendly. It is fast and efficient and cleans oily and dirty components effortlessly. The HW1100/G will clean anything up to 1100mm in diagonal dimension and will be a worthy asset in your workshop.
Hot Water Based
Complies with AS4024 machine safety standards
Mine site spec ready
Increased OH&S features for improved operator safety
7 Day 24 Hour Automatic on-off timer
Automatic water level top up
Automatic waste water pump out system
Big water capacity to reduce service intervals
Easy to service
Low power consumption
Powerful and efficient, it gets the job done fast.
It's a real time and money saver.