The Extra Heavy Duty Spray Washer range
The Mine Spec Extra Heavy-Duty range of automatic parts washers is a leap forward in durability and convenience, that offers the user some truly remarkable benefits.
Not only are these monsters constructed using tough mild steel, sand blasted and powder coated, but they also boast a dual skin which offers insulation and an additional layer of strength, a 24hour timer so you can set it to switch on and off at predetermined intervals and an automatic pump-out facility.
.
HW1400G-MS Spray Washer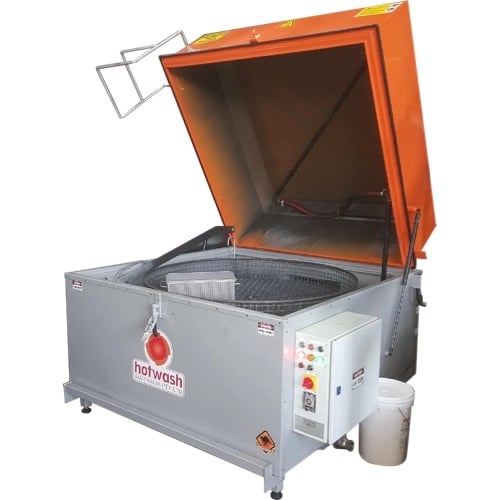 The HW1400/G Hotwash, like all of its stablemates, boasts a robust gear driven turntable that improves durability, cleaning efficiency and worker safety.
Operator ergonomics are also improved with features like the "jog" button that brings heavy parts in line with the operator to reduce potential back strain.
An impressive 5.5Kw pump makes light work of the heaviest cleaning job.
Hot Water Based
Complies with AS4024 machine safety standards.
Mine site spec ready.
Increased OH&S features for improved operator safety.
7 Day 24 Hour Automatic on-off timer.
Automatic water level top up.
Automatic waste water pump out system.
Huge 5.5Kw pump for the heaviest of cleaning jobs.
Standard gear drive turntable improves operator safety
Heavy duty 1,000kg load capacity
IP65 sealed, steel electrical cabinet keeps out moisture and dirt in tough environments.